The News Zone
All the latest from around the school...
In this section we bring you a round-up of all the latest goings-on in and around Gilwern. Click on any image to see it full-size.
April 2019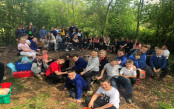 Topic Launch
Year 5 and 6 were excited to launch their summer term topic 'Survival' with an outdoor day; shelter building and campfire making.
Using Forest Schools we learnt how to chop word, use flint and steel to start a fire to toasting marshmallows.
We cant wait to see how our topic develops this term.
News Zone
Archive