The News Zone
All the latest from around the school...
In this section we bring you a round-up of all the latest goings-on in and around Gilwern. Click on any image to see it full-size.
January 2019
Health and safety notice
Please could all children, parents and visitors please enter the school using the main entrance. The infant yard gates will remain locked.
Thanks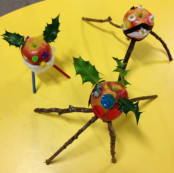 Blwydden Newydd Dda
Year 1 have started the Spring term by redesigning the Callenig to wish everyone a Happy New Year.
News Zone
Archive