The News Zone
All the latest from around the school...
In this section we bring you a round-up of all the latest goings-on in and around Gilwern. Click on any image to see it full-size.
September 2018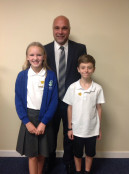 Head Boy - Head Girl
Congratulations to all the Head Boy and Head Girl candidates, the speeches showcases all your qualities and attributes.
We are pleased to announce that Dylan and Mia are our Head Boy and Girl for this year!
House captains, School Council, Eco Committee, Digital Leaders, Criw Cymraeg and Super Squad will be announced shortly.
#ethicallyinformedcitizens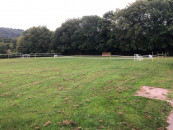 Year 6 Autumn term - Conflict and Resolution
Monday saw Year 6 corner off a zone ready to kick start the Autumn Term topic 'Conflict and Resolution'. Wonder what the Year 5s will make of this!
Tuesday morning saw the area grow and the Year 5s weren't happy. What will they do about the take over of land?
Year 5 children held a sit in, peaceful protest and Year 6 decided we should probably consider a compromise so that play time is more fair for everyone.
Keep watch to see the events unfold.
News Zone
Archive