The News Zone
All the latest from around the school...
In this section we bring you a round-up of all the latest goings-on in and around Gilwern. Click on any image to see it full-size.
July 2018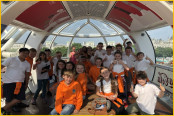 London 2018
Another year almost over and another leavers' trip under the belt. What a trip it was! Year 6 took the long and hot 5 hour coach journey to London on 5th July. We managed to cram so much in to two days and we had a blast!
On Thursday we boarded the coach at the crack of dawn – 6 am – with Llanfoist Primary and made our jouney to London! We arrived at around 11:00 and met our tour guide, Anita, who looked after us for the day. She took us on a Royal London Walking Tour, the Thames Cruise and showed us around the Tower of London where we got to see the Crown Jewels. After a long and very busy day, we retreated to our hotel, the Britannia Hamstead Hotel where we had a feast for tea. The options were endless so we filled ourselves with starters, mains and deserts before heading to the Lyceeum Theatre to watch The Lion King. The show was brilliant; it even had some of us in tears! Some however, were so tired from the early start and packed day that they had a little snooze while it was on. Nevertheless, we all loved what we saw of the show!
On Friday morning we were up bright and early for another feast – breakfast. Again we had a multitude of options and certainly filled ourselves to the brim! We then headed out to go on the London Eye which was followed by a trip to the Natural History Museum. Our fantastic trip was brought to a close after visiting Hyde Park for lunch and because it was such a lovely day, we got to have a dip in the Princess Diana Memorial Fountain.
Yet again, London was a huge success. We had a great time with the best company – our classmates!
News Zone
Archive