The News Zone
All the latest from around the school...
In this section we bring you a round-up of all the latest goings-on in and around Gilwern. Click on any image to see it full-size.
March 2018
Eisteddfod 2018
Each year the children of Gilwern School present an outstanding Eisteddfod for all to enjoy. Children spend the weeks leading up to the Eisteddfod, completing a range of tasks, ready to compete in the school's annual Eisteddfod with this year seeing the addition of home entries. Each year the quality of work and performance improves, with this year being no exception.
The school never fails to rise to the challenge of improving on the previous year's Eisteddfod and this year saw pupil voice lead the day in a new direction with the introduction of class dances and this year certainly didn't disappoint. Performances were lively and energetic.
A wide range of performances filled the day, including Foundation Phase singing Reach for the Stars to Traditional Folk Dancing from Year 3. Literacy items included recitations from all year groups and judges were amazed by the quality and clarity of children's performance skills.
Throughout the day house points were quite evenly distributed, however the afternoon saw a gap develop between houses and this is where the introduction of the home entries proved crucial to the overall winners. All children who took part in the cake baking, model making and photography at home gained extra points for their houses. At the end of the day's activities, the overall Eisteddfod winner for 2018 was announced as Green House.
A big thank-you to all children who took part and to everyone who made a contribution to a fantastic day.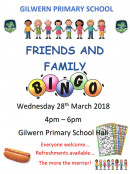 BINGO
We are holding an evening of Bingo, we hope you can come along.
School Open Monday 19th March 2018
School is expecting a disruptive start. Please take care on roads and pavements as they may be icy.
Many thanks
Rescheduled St David's Dress up an World Book Day
St David's Day

St. David's Day celebrations will be taking place on Thursday 8th March, 2018. Pupils are invited to wear representative Welsh dress e.g. traditional Welsh dress/costume, Welsh Rugby kit, Welsh football kit etc. The pupils will be participating in a variety of activities to celebrate the Welsh culture and heritage.
World Book Day

World Book Day celebrations will be taking place on Friday 9th March, 2018. Pupils are invited to dress up as a character from a book and bring their favourite book from home, which they will be able to share with a reading partner on the day. The children will be undertaking activities based on the well-known book "Awful Auntie" by David Walliams in preparation for our school theatre visit in May.
Monday 5th March 2018
School will be open however it may be a disruptive day. Please make your own risk assessment .
SCHOOL CLOSED: Friday 2nd March 2018
SCHOOL CLOSED: Following advice from Mon CC .Due to current weather conditions and safety on site. We aplogise for any inconvenience caused . We will continue to update you.
News Zone
Archive