The News Zone
All the latest from around the school...
In this section we bring you a round-up of all the latest goings-on in and around Gilwern. Click on any image to see it full-size.
February 2018
School Severe Weather/ Snow Procedures
See picture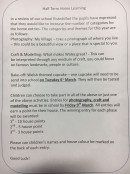 Eisteddfod Optional Competitions
In a review of the school Eisteddfod pupils have expressed that they would like to increase the number of categories for home entries. Please see the picture above for the competitions.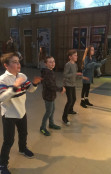 Thank You
Love was in the air this week as we raised a fantastic sum of £306.00 at our Valentine's Disco. The children certainly embraced the opportunity showcasing their creativity and unique dance moves!
The money raised will help facilitate the summer show "Return to the Forbidden Planet" which will be performed at The Beaufort Theatre on Thursday 21st and Friday 22nd June 2018. A show not to be missed!!!
News Zone
Archive