The News Zone
All the latest from around the school...
In this section we bring you a round-up of all the latest goings-on in and around Gilwern. Click on any image to see it full-size.
October 2017
Gilwern Primary School wins recognition for healthy lifestyle support
Gilwern Primary School near Abergavenny has successfully achieved the Healthy Schools National Quality Award – a Welsh Government scheme managed by Public Health Wales. It is only the third primary school in Monmouthshire to win this accreditation.
The Healthy Schools National Quality Award is an excellence award for health promotion in schools.
To gain the award, staff and pupils developed a whole school approach to food and fitness, mental and emotional health and wellbeing, personal development and relationships, substance use and misuse, environment, safety and hygiene. These health topic areas are embedded within the curriculum and reinforced through extra-curricular activities, pupil groups and links with local community groups and partners. The ethos and organisation of the school demonstrates unity and care. Staff are friendly, approachable and excellent teamwork is supported by the governing body as well as parents and carers.
Pupils' involvement in decision-making receives high priority with a number of active pupil groups that support and develop key health promotion messages. Pupils have the opportunity to take part in a variety of local community events and sporting tournaments.
Children's rights are fundamental to the ethos of the school as well as strong international links and involvement with the Eco Schools programme which have contributed to achieving the award.
Headteacher Roger Guy said: "I am delighted that we have achieved this prestigious award. I am very proud that our whole school community continues to work together to promote the well-being of pupils and staff here at Gilwern Primary School."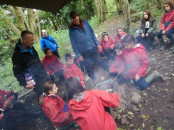 Green In Europe Project
This week we have been hosting 43 international visitors from around Europe thanks to our involvement in an Erasmus+ project: 'Green in Europe.'
Staff and pupils from three schools; Italy, Bulgaria, and the Basque region of Spain are involved along with ourselves in the promotion of sustainable life styles. Staff and Governors from Gilwern have previously travelled to Taranto in Italy and Bilbao in Spain, with a future trip to Bulgaria being planned. Our guests have been staying in the Gilwern Outdoor Education Centre and have had the opportunity to enjoy our wonderful countryside with outdoor activities and a walk on the Blorenge. They have also experienced Welsh culture; with a visit to Cardiff, a trip to Big Pit and a visit to a local sustainable property.
We have been delighted to see how Gilwern pupils have interacted with our visitors; making friends, listening to presentations, sharing ideas and promoting their cultures through a variety of learning activities. We look forward to further enhancing our links with our partners as the project continues to encourage the children to consider themselves 'sustainable, global citizens.'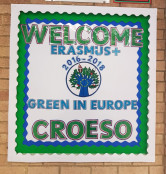 A Warm Welcome
Gilwern School would like to welcome our visitors from our Erasmus project.
Over the weekend we have seen our visitors arrive from Italy, Bulgaria and the Basque Country.
News Zone
Archive