The News Zone
All the latest from around the school...
In this section we bring you a round-up of all the latest goings-on in and around Gilwern. Click on any image to see it full-size.
September 2017
Talybont 2017
Another brilliant time was had by all in Talybont, September 2017.
We set off on Tuesday 19th September to Talybont Outdoor Education Centre for four days and three night of laughter, fun and some brilliant, memorable experiences.
Over the four days, we all experienced canoeing, archery, waterfall walking, hill walking and orienteering. The activities presented us with new challenges but each one was a fantastic way to develop life skills whilst making unforgettable memories and having a load of fun. However, the children would argue that the most challenging events that they experienced were making their own beds and lunches! They are now able to do both of these things successfully, with a little help from their friends.
We owe our leaders at the centre; Sue, Glyn and Dan, a huge thank you as the experience would not have been the same without them!
We returned on Friday with some very sleepy heads but each was accompanied with a big smile.
Well done on another brilliant trip to Talybont year 6! You did yourselves proud.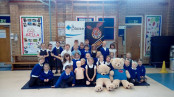 Blaise First Aid Training
Thank you to Blaise First Aid Training for coming into School and teaching our pupils Basic First Aid.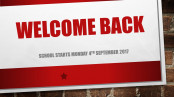 Welcome Back
School starts back on Monday 4th September 2017.
We look forward to welcoming back all children and parents after the summer break and look forward to a happy and successful term.
News Zone
Archive