The News Zone
All the latest from around the school...
In this section we bring you a round-up of all the latest goings-on in and around Gilwern. Click on any image to see it full-size.
July 2017
Morning Mile
We would like to take this opportunity to congratulate children and staff who have taken part in our Morning Mile Challenge. Children have been running, jogging and walking 4 laps of the school football/rugby field, which is equivalent to one mile. So far the event has been extremely popular.
Research has shown that the Morning Mile improves fitness and well-being but also provides other benefits in the form of increased focus and concentration during lessons. It is fantastic to see so many children taking part, encouraging and sharing this experience with their friends – so a huge thank you for all of your support!
All the miles have been tallied up and the final total of miles run is 987 miles!!!
Let's see if we can beat this in the new term, so keep on running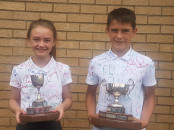 Sports Personality of the Year
Congratulations to Olivia and Haydn, a great year of sport.
News Zone
Archive