The News Zone
All the latest from around the school...
In this section we bring you a round-up of all the latest goings-on in and around Gilwern. Click on any image to see it full-size.
June 2017
Youth Speak 2017
Last week years 5 and 6 took part in an annual public speaking completion - 'Youth Speak.' Its has been run at Gilwern School for several years now in association with Crickhowell Rotary Club, who organise the judging and prizes.
The aim of the event is to develop public speaking skills and confidence. The pupils are required to work in small groups to research a topic, research it, create a 3 - 5 minute presentation (including ICT, picture, props, demonstration etc) and then present it to an audience consisting of pupils, parents, govenors and members of the Rotary Club.
The pupils are able to choose their own topic to work on but this year they were asked to choose a scientific topic. There were many great presentation of topics such as evolution, clouds and even cosmic dust!
All the presentations were of a very high standard but the Rotary Club had to decide on winner. In second place were Joseph, George and Jacob. The overall winners were Rio, Millie, Ellie and Olivia.
Everyone involved worked hard and enjoyed the event which will be carried out again next year.
Non School Uniform day - Monday 26.06.17
Reminder - non school uniform day tomorrow . In return children are asked to donate an item for the hamper.
Foundation phase is a sweet or a holiday item and KS2 is a gardening/ Spa item.
Thank you for your continued support .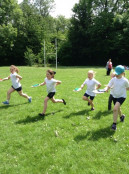 Sports Day 2017
Sports Day will be held on Friday 23rd June 2017. Parents are invited to attend. Hopefully favourable weather conditions will ensure that a good number of you will be able to come and support the children.
The activities will start at 9.30a.m. with the Foundation Phase Department and Hopscotch Nursery events. A break for lunch will take place from 12:00 – 12.45p.m. and the remaining races will be held during the afternoon. All events will be completed by 3:15p.m. It is not practical to give a precise timetable for each event however, the Foundation Phase events will be held in the morning and the Junior events in the afternoon.

As in previous years, parents can bring a picnic to share with their children in the school grounds at lunchtime. A lunch (hotdogs and chips) will be provided by the school canteen for those children requiring a school lunch on Sport's Day.
Following lunch, all Foundation Phase children will return to class and will remain in school until 3:15p.m. Please collect your child as on a normal school day. Children who travel on Monmouthshire LEA school transport will travel home as normal unless we are informed otherwise by parents.
Refreshments will be on sale during the day with all proceeds going to Hopscotch Nursery.

Children are encouraged to wear the colour of their house however please do not go to any expense in buying new clothing for this event. Please send your child(ren) to school in their sports clothes on this day. In addition, children will be provided with drinks throughout the events, therefore please do not buy refreshments to give to your child(ren) whilst they are competing.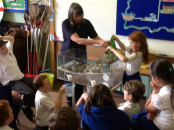 Our trip to The Outdoor Centre
Our day started with some group tasks looking at the water cycle. We had to create a water cycle and understand how Welsh Water take water out of the river, clean it by putting it through 3 grids, including two made of sand, add chlorine to it, and then it gets transported back to houses and schools. We then looked at what happens to the water when we flush the loo, or waste water down the sink. We learnt how it goes to a waste station to be cleaned again and then put back into the water cycle to end up in the sea. Next, we went outside and played a water cycle game, using sponges and sheets. We were learning about evaporation and condensation at this point. After that, we looked closely at filtering water to clean it. We had to create our own filters to clean the water from outside. Another teamwork task we did was to create a network of pipes to transport clean water from one place to another. We were great Welsh Water engineers! We had a lovely lunch sat outside, before taking part in our next workshop about flooding. We learnt that by cutting down trees, it means towns and cities are more likely to flood as trees soak up some of the precipitation that falls. Finally we played a game to understand how Welsh Water pump the water the top of the hill. We loved this game, as we used a syringe to squirt water into a bucket hanging from a tree. We all had a wonderful day and wish to thank Mary, our host from Welsh Water very much.

News Zone
Archive