The News Zone
All the latest from around the school...
In this section we bring you a round-up of all the latest goings-on in and around Gilwern. Click on any image to see it full-size.
April 2017
Countryside Experience
Year One and Two thoroughly enjoyed their trip to Coleg Gwent Farm 'Countryside Experience' this week. Dodging the wintery showers pupils took part in den building, pond dipping, tractor rides and wood craft. The farm yard was very interesting and very smelly; it was great to see the animals up close. They also enjoyed visiting the reptiles and rodents in the animal care centre; the boa constrictor was a particular favourite with Year One.
All pupils were a credit to the school with their maturity in a very busy environment.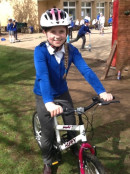 BIG PEDAL EVENT
Gilwern Primary School teamed up with Sustrans for the Big Pedal event. This lasted for 10 days where children were asked to try to reduce our carbon footprint by scooting or cycling to school.
The year 6 pupils undertook data collection at the start of each day to find out how many pupils in each class had travelled to school on a bike or scooter. The whole event lasted for 10 days and for the first 9, we found that on average, around 7 children were riding a bike or scooter to school.
On the 10th day, we held our final big pedal event. Just over half of the children in the school cycled or rode a scooter to school. AMAZING!
Throughout the day, the children cycled and scooted their hearts out in an attempt to rack up 1334 cumulative km; the distance between Gilwern Primary School and Basque Country in Spain, where many of our members of staff were hard at work on an international project.
The year 6's took it in turns to tally the laps accumalated in 3 different zones. The infant yard; an 80m track, the junior yard; a 90m track and the junior field; a 230m track. At break times and lunch time, they calculated the cumulative meters travelled, converted this into kilometres, then highlighted this on a map to show the distance we had travelled so far.
After around 3 and a half hours of hard work, we calculate the total distance. The children had cycled or scooted a whopping 1197km! This would have taken us as far as Saint-Jean-De-Luz in France. Only a short distance away from the Spanish boarder!
Unfortunately we didn't make it as far as Basque Country. However, the children had a fantastic day, conducted themselves brilliantly and worked very well as a team!
Above all, this hopefully proved to the children how much fun they can have when riding a bike or scooter and we hope the effort of cycling or scooting to school continues into the summer.
A huge well done to you all!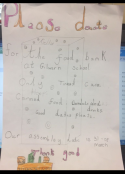 Year 2's Food Bank
Please support Year 2s Food Bank collection.
Please could you send in any dried or canned foods with a good date . Year 2 would like to thank you in advance for your support.
News Zone
Archive