The News Zone
All the latest from around the school...
In this section we bring you a round-up of all the latest goings-on in and around Gilwern. Click on any image to see it full-size.
February 2017
Our School Trip to Cardiff
On Friday 10th February 2017, year 5 went on a school trip to Cardiff to visit The National Museum of Wales and Apple. We travelled by bus to the capital city of Wales to find out about Tudor portraits and digital devices.
When we arrived at The National Museum of Wales it was an astonishing sight to see. An enormous building with high ceilings and many galleries. We began by walking around the galleries to study the many oil paintings one of which was a Tudor painting of Henry VIII and his three children.
After viewing the galleries, we walked around the dinosaur exhibition and national history displays. It was very interesting to see the artefacts.
After lunch, year 5 walked across the city centre of Cardiff and saw many interesting sights. Cardiff Castle was a spectacular sight and the city centre was very busy!!
Next, we arrived at the Apple Store to explore digital devices. It was very exciting to explore new iPads. We worked in pairs to draw pictures of well-known Tudors and projected the images upon a large screen. These images were then used to create an informative presentation.
After that, we returned to the bus for our journey home. An inspiring and informative day which we enjoyed very much!
St David's Day
Children are invited to wear traditional Welsh costume, Welsh rugby/football shirt or something red to school on Wednesday 1st March 2017.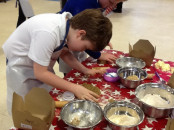 Can We Cook..?
The Juniors have been 'whetting appetites' throughout the school as aromas from delicious recipes have been wafting through the school. Pupils from year 4, 5 and 6 have been participating in highly interactive, curriculum-led science workshops using food as the basis.
As part of their termly topics pupils have been recreating foods from the Revolution, Tudor and Stuart period. This provided pupils with a wonderful opportunity to learn about food, how to prepare foods from a variety of eras and the principles of a healthy diet.
Pupils were shown recipes using ingredients from local producers and shown techniques on how to prepare food highlighting the importance of food hygiene.
Workshops were delivered by Kiddy Cook who are renown for delivering imaginative, cross curriculum cookery workshops, teaching children the importance of healthy eating as part of a healthy lifestyle.
Congratulations must go to year 4 for their digestive biscuits, year 5 for their gingered bread and year 6 for their cheesy bean burgers,
Mrs Marles was extremely impressed with the delivery and learning facilitated during each workshop stating "Learning about food, how to prepare it and the principles of a healthy diet is important for every child".
Could this be the beginning of The Great Gilwern Bake Off…!!?
News Zone
Archive