The News Zone
All the latest from around the school...
In this section we bring you a round-up of all the latest goings-on in and around Gilwern. Click on any image to see it full-size.
September 2016
Year 6 Visit Talybont
On Tuesday 20th September 2016, we (Year 6, Miss Price and Mr Guy) set off on our first trip of the year to Talybont Outdoor Education Centre. The trip lasted for 4 days and three nights and didn't we know it by the end of the week!
On Tuesday morning we met in school at 9:00am as usual. However rather than just bringing in our home learning books, pencil cases and lunch, we were accompanied by mounds of luggage which we piled up in the library until we were ready to go. At 9:30, we picked up the suitcases, bags, pillows, first aid kits, sports equipment and everything else we needed to take and struggled towards the bus. We could not contain our excitement. You may even be able to see this by the look on our faces, recorded by our selfies that were taken on the journey.
On arrival we were welcomed by Sue, the centre leader and shortly after met Gavin, another leader of Talybont OEC. We were then allocated rooms by Miss Price, much to our excitement and as soon as we were allowed, rushed upstairs to unpack, sort out our beds, and more importantly, our sweets!
The rest of our day consisted of outdoor activities such as team building tasks, netball, football and tree climbing. This was all hilarious until Cai Price managed to fall awkwardly, almost breaking his ankle. Well done Cai! He got taken to be checked out and luckily, everything was okay so he soon re-joined us back at the centre. We had our first cooked meal at Talybont that evening. We had a choice of either pizza or chicken nuggets with chips. The quality of the food was fantastic, the portions were huge, we could have seconds and thirds and if that wasn't enough, we even had desert. What more could you ask for? That night, we played hide and seek in the dark, known to Miss Price and now Mr Guy and Year 6 as 'spot light Charlie'. You have to try it! We would be happy to tell you all about it if you pop up to year 6 to. We loved this game and crammed in as many rounds as we could before we were eventually forced to come inside to get some rest.
On Wednesday morning, we were woken up by Miss Price's singing (if we weren't already awake) at 7:00am and headed down to make our packed lunch for the day, then had breakfast. After each meal we cleaned up after ourselves and actually began to get very good at it – don't tell our parents!! We then kitted ourselves up in our waterproofs, ready for the day's activities. Group 1 went with Sue to the forest to do den building and have a camp fire with marshmallows. However, Elliot, Haydn, Joseph, Jackson and Mason thought the most interesting part of the morning was a giant puddle which they had way too much fun pushing each other around in! George was practising his future career of becoming a professional fire starter and the girls, Ellie, Olivia, Lauren and Millie were taking in the scenery, wondering where they'd found these wild boys and how they ended up having to spend so much time with them! Meanwhile group 2 took part in the waterfall challenge with Gavin, where they crawled under logs and rocks, slid through tunnels and had a race on their bottoms, all whilst being submerged in freezing cold water. The groups then gathered for lunch and swapped activates for the afternoon. That evening, we had our tea, which again was delicious, then explored each other's rooms before heading out to go to the local park in the dark. Again, we had a game of spot light Charlie, but not without an accident of course as Haydn decided to run at full pace in to a post, bruising his leg and forcing Mr Guy to practically carry him on our journey back to the centre – da iawn Haydn!
The next morning, again at 7:00am we were woken my Miss Price and her morning song before heading down to make our lunch and have breakfast. We then went to put on our waterproof in preparation for the day. Group 1 headed off to archery, shooting a range of arrows at targets with great force. A few Robin Hoods in the making! At the same time Group 2 took part in canoeing on the canal. This was the activity that many of us were apprehensive of. That was until we got there! We had two canoes between the group; Harry, Alfie, Rio, Tom and Miss Price on one, Oliver, Sky, Alanna, Jacob, Cai and Sophia on the other. Our first challenge was to race in the canoes to collect 'Cyril' the rubber duck. Oliver was so determined for his canoe to win that he reached out so far that he couldn't pull himself back and fell face first into the murky water below. Bendigedig Oliver! The others on his canoe did help to pull him back in, but not before letting out a roar of laughter. We then took part in other challenges such as rowing backwards and from side to side. This was all going very well until Harry lost his rhythm but continued paddling, resulting in completely soaking himself and Miss Price from head to toe. The final bit of our time on the canal – our favourite part – was throwing ourselves from the canoe into the canal and having a splash about in the water. Gavin even turned one canoe into a slide for us to slide down on our knees, bottoms and fronts. Sophia, of course, was the first to go into to the canal head first. Again, this was all lots of fun until Tom decided to push Miss Price into the canal, which of course added to our fun and had us all in fits of laughter. Nice one Tom! Miss Price tried to get him back but wasn't strong enough to push him in. That evening, we had another lovely meal before cleaning up and settling down to watch a film – we chose Chitty Chitty Bang Bang. Who doesn't love a musical? Well, Jacob doesn't, as half way through the film he leaned over to Miss Price and said "I can't stand films like this, every ten minutes another song comes on, who needs that?!". Which of course has miss giggling her head off and started the rest of us off. We drank hot chocolate and ate far too many sweets while watching the film, before heading to bed at almost midnight.
As you can imagine, we were all very tired on Friday morning after our late night. Never the less, the hoovers were out and the cleaning of our rooms commenced. After having these thoroughly inspected by Sue and Gavin, we were allowed to go down stairs and get our kit on ready for our final activity – the hill walk. The scenery was beautiful! We learned lots about the surroundings as we walked and we even sat to have lunch on the hillside.
Finally, it was time to go home. With sad faces, we packed our luggage onto the bus with the help of the driver and were ready to leave Talybont by 1:30pm. We were back to school by 2:00 and our parents picked us up straight away. Thank goodness as we were all absolutely shattered! We were all very glad to be back with our families although we do wish that we could experience Talybont all over again as we had such a brilliant time. The trip was extremely successful and we definitely learned many skills that we will carry forward with us; independence, maturity, cooperation, resilience, but most of all, we had great fun!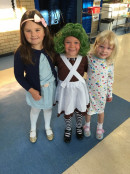 Roald Dahl's 100th Birthday celebrations.
2016 marks 100 years since the birth of Roald Dahl and throughout the year there are celebrations to mark this occasion. Every year 'Roald Dahl Day' is held on 13th September to commemorate his birthday. This year Gilwern Primary decided to get involved with the celebrations and held their own 'Dahl-Tastic Day'. Both children and staff dressed in their favourite Roald Dahl characters. 'It was a fun day that allowed everyone to become absorbed into the 'gloriumptious' world of Roald Dahl. To see children so enthused about reading and writing was wonderful.' Said Mrs. Edwards, Year 2 teacher. The day was full of writing revolting rhymes and recipes, designing new chocolate bars, creating dream catchers and many more exciting activities.
I really enjoyed dressing up as a witch from the Roald Dahl book Witches said Imogen Year 2
Remember: "If you have good thoughts they will shine out of your face like sunbeams and you will always look lovely." Roald Dahl.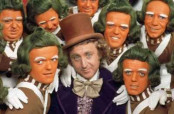 Reminder Roald Dahl Tuesday 13th September
Just a reminder as this year marks 100 years since the birth of Roald Dahl we are inviting children to come to school tomorrow dressed as their favourite Roald Dahl character and may bring with them a book of his they have enjoyed.
Should you wish to find out more please visit the official Roald Dahl website www.roalddahl.com/create-andlearn/join-in/roald-dahl-day.
Amazing Start
What an amazing start to the new school year. It has been a pleasure to see pupils of all ages settling back into school routines with such enthusiasm and commitment. I'd like to especially welcome the Reception class and pupils who have joined us from other schools. All have settled in quickly and are thoroughly enjoying their busy days.
This year we will be able to build further on last year's success. Gilwern is currently categorised as a Green school, which is an external judgement of the school's capacity to deliver high quality education consistently. However; our potential to further improve is great and all of the school community is fully committed to achieving excellence in all aspects of service.
News Zone
Archive