The News Zone
All the latest from around the school...
In this section we bring you a round-up of all the latest goings-on in and around Gilwern. Click on any image to see it full-size.
May 2016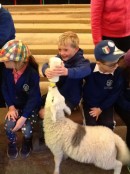 Cantref Farm
When members of the public comment on how well behaved the class are, we know we've had a great day!
That is exactly what happened when Year 2 visited Cantref Farm in Brecon last week.
The trip was arranged to support Year 2's topic 'Mini Zoo,' in which they are leaning about farms, zoos, animals, habitats and life cycles.
During the day the children had many wonderful opportunities. They fed barley to sheep and goats; bottle fed lambs; learned about and handled a variety of pets (chinchillas, rats, gerbils, rabbits, guinea pigs); enjoyed a tractor and trailer ride and watched the pig racing.
The pupils learned a lot about each of the animals and were able to ask many questions to enhance their understanding.
There was also a bit of time for a spot of playing!
It was an educational and fun-filled day and the whole class we all enjoyed ourselves immensely.
News Zone
Archive