The News Zone
All the latest from around the school...
In this section we bring you a round-up of all the latest goings-on in and around Gilwern. Click on any image to see it full-size.
June 2015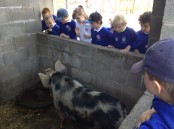 Year 2 visit to Cantref Farm
Year 2 had a very exciting trip to Cantref Adventure Farm on Thursday 18th June.
The day started with an exciting bus journey to Brecon. On our journey we spotted the Brecon Beacons, which we had previously drawn for our Eisteddfod. When we arrived at Cantref we were greeted with individual stickers. We were then led into the play zone, where we were able to slide down steep slides, race in sacks, play in ball pools and squeeze through soft play areas. We had great fun!
To cool down after all the running around we had snack before being led by the Cantref staff to the Pet Handling area. In the Pet Handling area we were asked about different animals. We saw lots of rabbits. We had a chance to stroke a huge rabbit. He was very soft. Next we saw and stroked guinea pigs. After that we met a ferret called Rocky. We had a chance to stroke him and smell him. He didn't smell very nice! We then held some chicks. They were just turning from babies into adults. Finally we had a chance to stroke the Chinchilla. We also saw rats, gerbils and turtles.
Did you know that a baby rabbit is called a kitten! And a baby rat is called a pup!
The Cantref staff told us how important it was to wash our hands, so before we went to bottle feed the goats we all washed our hands.
When we were bottle feeding the goats, we learnt that the goats are fed on the same milk as lambs. They have to mix the powdered milk with water and put it into a bottle. The goats were very hungry, and we had to hold onto our bottles tight. The goats were being fed because either their mother had died, the mother had too many goats to rear or because the mother goat didn't have any milk.
From this we washed our hands and went to eat our dinner.
After dinner we went on a tractor and trailer ride to see all of the animals at Cantref Farm. We saw lots of different breeds of sheep. Some had lots of wool; others had different colour wool and some had stripes on their face. We also saw ponies, water buffalo, Aberdeen Angus cows, Dexter cows, Llamas, alpacas and donkeys.
After the tractor ride we went on the super sledge ride. It is Europe's longest sledge ride. We had lots of fun on this. It was quite refreshing to feel the spray of water on our face, but the water made the sledge move faster.
Finally our last activity was to watch the pigs' race. There were 4 teams, Swill-I-Ham, Harry Trotter, Hammy Styles and Fireman Ham. 3 of us got invited into the ring to be team leaders and we had to shout as loud as we could to encourage the pigs to race around the track. It was great fun to watch.
We had a little time left to play on the apparatus, and then it was time to collect our goodie bags and get on the bus home. We were all very tired after our very exciting day at Cantref Farm. We learnt lots about the animals and it will help us with our Mini Zoo topic.
News Zone
Archive