The News Zone
All the latest from around the school...
In this section we bring you a round-up of all the latest goings-on in and around Gilwern. Click on any image to see it full-size.
March 2015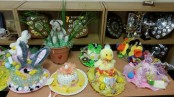 GAP News
Football Kit -
GAP are pleased to announce their donation of 24 new football kits to the school. The kits were requested by Year 4 pupils, who then approached members of the School Council.
Thank you to GAP for their very kind donation.
GAP would like to thank all parents for attending the Easter Fayre and for all those you helped make Easter Bonnets. Your support is greatly appreciated.
The total raised was - £595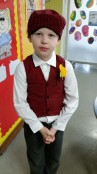 Eisteddfod 2015
Each year the children of Gilwern School present an outstanding Eisteddfod for all to enjoy. Children spend the weeks leading up to the Eisteddfod, completing a range of tasks, ready to compete in the school's annual Eisteddfod. Each year the quality of work and performance improves, with this year being no exception.
The day commenced with the traditional Eisteddfod ceremony - the Crowning of the Bard – a tradition that takes place as a result of the very first Eisteddfod in 1176. Lord Rhys of Cardigan held a grand gathering to which were invited poets and musicians from all over the country. A chair at the Lord's Table was awarded to the best poet and musician, a tradition that we have introduced to our Eisteddfod. This year the person selected for the Bard is a person who has demonstrated literacy skills across a range of genres. This year the Bard went to Niamh Critchley.
The school never fails to rise to the challenge of improving on the previous year's Eisteddfod and with the introduction of a Year 6 'Haka' competition, this year certainly didn't disappoint. Performances were lively and confident.
A wide range of performances filled the day, including traditional Welsh Folk Dancing in Year 2 to Modern Dance in Key Stage 2. As always, the house dances were exciting and the energetic performances had the whole-school audience singing along. Literacy items included recitations from all year groups and judges were amazed by the quality and clarity of children's performance skills.
Throughout the day house points were quite evenly distributed, however the afternoon saw a closer gap develop between houses. At the end of the day's activities, the overall Eisteddfod winner for 2015 was announced as Red House.
A big thank-you to all children who took part and to everyone who made a contribution to a fantastic day.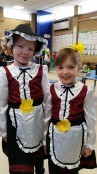 Celebrating St David's Day
Children were invited to wear Welsh costumes into School. (i.e. Welsh girl/boy costume, Welsh Rugby kit, Welsh football kit, etc.)
Please go along to our Gallery to see our pictures.
News Zone
Archive