The News Zone
All the latest from around the school...
In this section we bring you a round-up of all the latest goings-on in and around Gilwern. Click on any image to see it full-size.
February 2015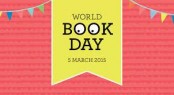 World Book Day 2015
World Book Day will take place on Thursday 5thMarch, 2015
Each year the school celebrates World Book Day with a range of Literacy based activities, i.e. shared reading, writing poetry, writing stories and listening to a storyteller.
The theme for this day will be:-
Foundation Phase –'Twisted Tales'
Fancy Dress Code –a two tale costume e.g. 'Little Red Riding Hood's'cloak worn with a 'Three Little Pig's'face mask.
Key Stage 2 –Space Pirates
Fancy Dress Code –An intergalactic pirate with modern technology. e.g. A traditional pirate with a modern 'twist' –let your imaginations run riot!
News Zone
Archive