The News Zone
All the latest from around the school...
In this section we bring you a round-up of all the latest goings-on in and around Gilwern. Click on any image to see it full-size.
January 2015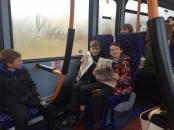 Trip to Shackletons
Year 4 are well underway with their Spring Term Topic 'New Visions', we are learning about the possibilities for our local area in the future and how we can keep records of today and how we can learn form the past.
We have looked at a range of maps to see how Gilwern and the surrounding area has changed and how photographs and other historical sources can teach about what life was like. We decided to take some photographs of our own depicting what the area is like surrounding our school. Instead of using digital cameras to take photographs we used disposable cameras.
"I had never seen one before" said Oliver.
"The children were fascinated and wanted to know where their photographs had gone once they had taken it." Explains Mrs. Edwards.
To help the children get a better understanding we decided to link with local business Shackletons who agreed to show us exactly what happens to photographs taken with a disposable camera.
Year 4 took the X 4 Stagecoach bus into Abergavenny.
"We needed to ask for a return ticket to Abergavenny, it cost £2.80" said Rio.
When they arrived at Shackletons the class split into 2 groups each group learning about the development of negatives from their disposable cameras and how digital printing works.
"We had a great time and I really enjoyed looking at all the different machines that help print the photographs" said Thomas.
It was a fun filled trip and Year 4 have a very good understanding of how to capture and create lasting images. Mrs. Edwards and the children in Year 4 would like to say a huge thank you to Shackletons for accommodating us, with a special thanks to Jonathan, Darren and Richard who helped us all morning.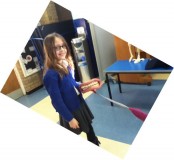 Techniquest
On Monday 19th of January Year 5 had the opportunity to work with Rhys from Techniquest.
We learnt about the workings of the heart and the digestive system. Ieuan Alford, Jessie Barrell and Ella Randall held the specially made digestive organs in their hands "It's weird!" said Jessie. We also learnt how long the journey of our food took, it turned out it was on average 36 hours for food to pass from top to BOTTOM!
For the final part of the session we were allowed to explore different activities that had been set out for us, from a smelling station, where we had to identify different smells to building our own skeletons. We really enjoyed our morning and learnt some interesting facts.
News Zone
Archive