The News Zone
All the latest from around the school...
In this section we bring you a round-up of all the latest goings-on in and around Gilwern. Click on any image to see it full-size.
December 2014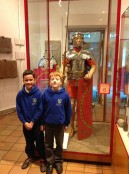 Year 3 Visit the Roman Town of Caerleon
On Thursday 27th November twenty seven excited Roman warriors set off from Gilwern Primary School to invade the town of Caerleon. Whilst there they had the opportunity to visit the Roman Baths and handle lots of artefacts that have been discovered by archaeologists. Everyone loved trying on the extremely heavy armour of the Centurions and they were surprised by how heavy the helmets actually were. Strong muscles were certainly needed to carry those shields all day long!
After the tour of the Baths a little bit of leisure time was needed so they relaxed in true Roman style in the amphitheatre. Luckily there were no lions or gladiators ready to fight that day!
Did you know eight soldiers would sleep in one room in the barracks and the beds were made of sacks stuffed with straw? There was a fire in the corner of the room which must've made that small bedroom with so many bodies in very smelly!
Gilwern Roman invasion finished with a trip to the shop before the tired soldiers marched back home to their families.
Year 1 Trip
Year One enjoyed their trip out and about in November. We visited two very different museums. At the National Museum of Wales in Cardiff "we saw dinosaurs and sharks and a crocodile. It was amazing." said Charlie. We got to make a lot of noise in our workshop. Did you know some dinosaurs sounded like very loud cows?
The following week we visited the coal houses at Blaenavon Ironworks to see how life has changed in the last 100 years. "There were no toilets and only one toy in one of the houses!' said Alice.
Mrs. Millington and Mrs. Powell are very proud of how well the children represented our school on our trips. Da Iawn Bawb!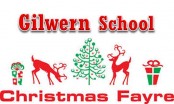 Christmas Fayre 5th December 2014
Don't miss our annual Christmas fete on Friday 5th December 2014.
Come along and join in the festive spirit with us at Gilwern Primary School.
News Zone
Archive