The News Zone
All the latest from around the school...
In this section we bring you a round-up of all the latest goings-on in and around Gilwern. Click on any image to see it full-size.
November 2014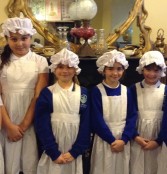 Year 4 News Story – Children of the Revolution
Year 4 have kicked off their new topic 'Children of the Revolution' with a bang! They are deep into finding out the impact the industrial revolution had on the local Welsh landscape and how Victorian inventions have shaped the 21st century.
Last week they journeyed to Cardiff Castle to see how Lord Bute ran the castle in the Victorian Era. They learned how those with wealth lived in Victorian times, including how Lord Butes 4 children were entertained in their nursery.
"It was interesting seeing the different toys they had and the story paintings around the room" said Thomas.
Following a tour of the castle learning about how the upper class lived and entertained themselves, Year 4 took part in a Victorian workshop where they became servants of the castle.
"We looked funny in our aprons and mop caps" said Alanna.
"The servants worked really hard preparing the castle for Lord Bute and his guests, I can't believe you couldn't speak to him unless he spoke to you first!" said Joseph.
The children also got to handle real Victorian artefacts from a 'penny-lick' glass to a 'candle snuff'. It was a great opportunity for the children to explore resources first hand. Mrs. Edwards concludes, "the trip has inspired our topic greatly, the children were so enthused by the activities they took part in and the things they saw. We cant wait to further develop our skills through such an exciting topic!"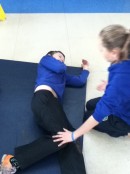 Year 5 to the rescue
On Wednesday November 5th 2014 P.C Carl came into school to work with Year 5. His plan was to develop our basic first aid skills. A lot of the children in the class already had quite a bit of knowledge on the subject and I think P.C Carl was quite impressed.
He taught us the meaning behind the acronym D.R.S A,B,C, DANGER, RESPONSE, SHOUT, AIRWAVES, BREATHING,CIRCULATION.
Ben Merriman commented that this was a useful thing to remember if you found someone in need.
We went on to learn how to put each other into the recovery position which was another useful skill to have. The best bit of the afternoon by far was being given the opportunity to practice C.P.R using Resuscitation Annie, a doll that enables you to practice on a lifelike model. All the children worked hard and skills were developed well.
P.C Carl was very impressed with how Year 5 responded to this workshop. Grace Kettley commented that it was a fun way to learn skills for now and the future. We finally looked at how to deal with choking, and we all left that day feeling much better prepared for any future emergency that we may come across. We would like to take this opportunity to thank P.C Carl for coming to our school and providing the Year 5 children with basic first aid skills.

Photograph Orders
Please can all orders for School Photographs be returned to School By Thursday 6th November 2014. Thank you.
News Zone
Archive