The News Zone
All the latest from around the school...
In this section we bring you a round-up of all the latest goings-on in and around Gilwern. Click on any image to see it full-size.
September 2014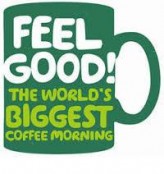 Macmillian Coffee Afternoon
Pupils, staff, parents and governors at Gilwern Primary School held an coffee afternoon in aid of Macmillan Cancer Support. Members of GAP helped decorate the hall and staff and pupils made dozens of delicious cakes ranging from chocolate to carrot cake and doughnuts to decorated biscuits. It was a wonderful occasion which welcomed the community into the school.
Deputy Head teacher, Sue Marles said as well as the school pupils, children from the local nursery, governors, staff, parents and members of the community enjoyed the afternoon tea. "It was a fantastic charity occasion to which everyone contributed something. The school embraces such magnificent events to allow children to gain confidence and develop their entrepreneurial skills as they designed invitations and helped make products to sell for a worthy cause."
Kind appreciation must go to everyone for supporting and contributing to the event as an outstanding sum of £279.32 was raised for Macmillan Cancer Support.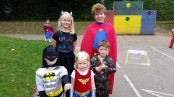 Superheroes Day.
You may have been mistaken in thinking that you were on the film set to a new Adventure movie if you had visited Gilwern School last week. However, it was just another day in the life of the school as it was transformed into a headquarters for the biggest gathering of superheroes the world has ever seen! Spiderman, Superman, Wonder Woman and Bat Girl were just a handful of the many powerful characters that could be seen working busily throughout the school!
The reason for this amazing and unusual collection of young people was to raise money for a very important charity organisation – St Johns Ambulance. The theme of 'Superheroes' was aimed at raising children's awareness of the role of real-life superheroes, such as ambulance staff, firefighters and the police (as well as many others). The pupils dressed up as their favourite superhero – fictional or non-fictional – and made a small donation to the charity for this privilege.
Throughout the day all pupils took part in a wide range of Superhero-themed activities, such as painting, poetry and craft and to end the day, each class shared their experiences with the rest of the school in a Sharing Assembly.
In return for raising awareness and funds for the charity, the school was visited by Rhys Probert (Youth Officer) and Andrew Jones (Operations Assistant) from the Abergavenny branch of St. Johns Ambulance. The pupils were fortunate enough to tour an ambulance and find out about how it works. This was thoroughly enjoyed by all pupils and staff.
St John's Ambulance, had set the school a fundraising target of £100 and the school certainly met that target by raising £200 for the charity. As the school met the target set, 30 pupils will be lucky enough to receive free first aid training within school, and who knows, we may have inspired the children to become real life super heroes one day within their chosen careers.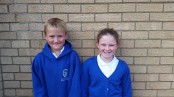 Roles and Responsibilities for Year 6
The start of a school year means new roles and responsibilities for the new Year 6 class. As a class, the children decided upon the positions to be filled. These included: Head Boy and Head Girl, House Captains, School Council Representatives, Eco-Committee Representatives and The Super School Squad.
All pupils were encouraged to prepare a short speech on why they would be good at the role they were putting themselves forward for.
The Head Boy / Girl candidates delivered their speeches to all pupils and teachers in assembly. All Key Stage Two pupils and all members of the teaching staff then voted through a private ballot, to identify the most suitable candidates for the roles of Head Boy and Head Girl. Following their presentations Bronwyn Morris and Isaac Hutchinson have been elected by their peers to fulfil these roles. Congratulations to Year 6 for their very entertaining and inspiring presentations - you should all be very proud of yourselves.
House Captain Candidates delivered their speeches to their House Groups, whilst those pupils who wanted to be on the School Council, Eco-Committee or Rights Team put their names forward for a class vote.
Head Boy: Isaac Hutchinson
Head Girl: Bronwyn Morris
Blue House Captains: Max Greenland and Angharad James
Green House Captains: Libby Travers and Dylan Smith
Red House Captains: Corey Paton and Erin Morgan
School Council: Jack Davies and Niamh Critchley with Isaac and Erin remaining on from last Year.
Eco Warriors: Seb Wallbank and Elina Lewis
Super School Squad: Evie, Morgan, Jake, Alfie, Abbie, Jade, Anna, Riordan, Beth, Euan, Fraeya, Marnie, Tom, Ewan, Alex and Ethan.
We are looking forward to another successful year.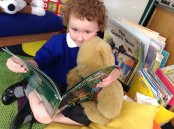 Welcome to Reception Class
Starting School is a milestone not only for the children but for parents . This year's Reception Class are keen, eager and ready to learn. "I am so delighted with how well the children have settled in. It's as though they have always been here. I am really looking forward to seeing them grow and blossom as a group." said Mrs Broad the Reception class teacher.
These first few weeks have been about 'finding their feet' within the school and knowing the routine of the school day. Teaching in Reception is very much about exploring and experiencing, learning through play and hands-on activities. The activities are planned to challenge their thirst for knowledge and investigative nature. Our First Topic is "When I Fall Asleep"
"I'm really excited about this forthcoming year. We have a talented and enthusiastic group of children who are all eager to learn. As a school we are also fortunate to have such a committed young staff with endless energy and new ideas with regard to making learning fun and challenging. As a staff we talked about our purpose. Our School Aim is to NURTURE, EMPOWER, ACHIEVE."
Gilwern School is looking forward to another successful and exciting year.
News Zone
Archive