The News Zone
All the latest from around the school...
In this section we bring you a round-up of all the latest goings-on in and around Gilwern. Click on any image to see it full-size.
August 2014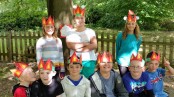 BACK TO SCHOOL
We hope you have had a enjoyable 6 weeks this Summer and look forward to seeing you all back in School on Tuesday 2nd September 2014.
Breakfast Club will be running starting at 8.00am for those attending.
News Zone
Archive