The News Zone
All the latest from around the school...
In this section we bring you a round-up of all the latest goings-on in and around Gilwern. Click on any image to see it full-size.
July 2014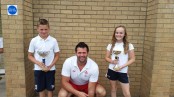 Sport Still Thriving at Gilwern Primary School!
We have come to the end of another good year for Physical Education at Gilwern. The school still holds the 'Active Marc,' which recognises the delivery of quality P.E. lessons. Pupil participation in extra curricular sport is at an all time high and our sports teams have upheld the school tradition of high levels of success through quality sporting performance.
As well as during curricular lessons, the school has offered a wide range of activities for keeping active through our lunch time clubs. These clubs have been very well attended, with pupils enjoying developing their skills in activities from football to skipping.
Competitive teams have represented the school in netball, football, rugby, hockey, swimming and cross country. We have maintained our success in Abergavenny based competitions and fixtures, whilst also venturing further afield to play in Pontypool, Newport and Cardiff.
The school rugby squad do deserve a particular mention, as they have been one of the most successful sporting groups the school has ever had. With teams winning both the 'A' and 'B' competitons at the Abergavenny Schools Tag Rugby Tournament and the 'contact' team coming runner up at the Autumn Term Pontypool Schools' Tournament and winning the Spring Term Pontypool Schools' Tournament (a competition open to more than 30 primary schools, in one of the strongest rugby playing districts in Wales).
The mini marathon was held for the third time this year and it continues to grow in popularity amounst pupils and parents. With over 80 FP children running the short course and over 90 KS2 pupils running the longer course, pupil participation was fantastic! The event also developed community links, with more than 100 parents, grandparents and family members spectating or taking part. A special thanks must also be made to the Police officers who helped marshall the event, as well as other adult volunteers who gave up their time to help ensure pupil safety. The generosity of parents and friends of the school again astonishes me, as we raised _______ through sponsorship. This money will be used to purchase new equipment for school. Last year's total paid for brand new gymnastic mats which have been used throughout this year and have really enhanced gymnastic lessons.
The sporting calendar culminated in our school sports day. Despite initial concerns about the weather, the conditions were actually great for a full day of activity. In the morning, all FP pupils ran in five different races, gaining points for their allocated house – Blue, Green or Red. Hopscotch Nursery were also invited to run their races as part of the Foundation Phase programme. It was great to see them involved again this year.
KS2 pupils had competed in house matches and field events prior to sports day. The points accumulated here were added to the Foundation Phase totals before the afternoon programme of events began. In the afternoon all KS2 pupils were given the oppotunity to take part in at least 3 events, plus a relay. Eleven different events took place in total. The competition was close, with the lead changing hands several times thoughout the day, but eventually Green House were crowned worthy champions.
Even though events like sports day, mini marathon, house matches and the football competiton at the school fete all have an element of competion in them, they are also all designed to give as many pupils as possible the oppotunity to take part in sport. The oppotunities being provided are resulting in more and more pupils at Gilwern, developing an enthusiasm for sport and physical activity, this in turn helps us remain a happy, healthy school – long may it continue!
News Zone
Archive