The News Zone
All the latest from around the school...
In this section we bring you a round-up of all the latest goings-on in and around Gilwern. Click on any image to see it full-size.
June 2014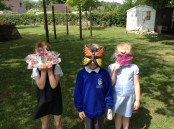 Ugly Bug Ball
"Come on, let's crawl, to the Ugly Bug Ball..."
Year One received invitations to an Ugly Bug Ball earlier in the term and on Wednesday 25th June the big day finally arrived. Wearing masks to hide their human faces from their insect guests the children headed outside for a morning of singing and dancing under the trees.Everyone enjoyed the ball, with the high point being our watermelon snack. One watermelon can feed 24 people!
Throughout the term we have been exploring the school grounds looking for bugs and learning lots of facts. Did you know insects have 6 legs! Bevan said " I love looking for minibeasts especially in the mud"
Year 1 also got the chance to watch ladybirds hatch and grow. Did you know ladybirds start as eggs. "Everyday we watched to see if the eggs had changed" said Issy.
Year 1 have had a fantastic time exploring this topic and cant wait to carry on learning new things about All Creatures Great And Small.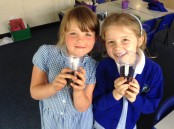 Green Fingered Year 2
Its been a busy, busy start to the term. Year 2 have knuckled down down to their topic of "GROWING THINGS." While working through this topic even our minds have grown with all the information we have been finding out. We have had a heavy focus on planting things and have shown off our "GREEN FINGRS" by planting a variety of things from sunflowers to French green beans , thanks to the kindness of Jack Clarkes Mum and Nan. These very kind ladies made a visit to our class and helped us with both the planting and a huge list of questions we had generated for them, they weren't even stumped by our pumpkin questions.
In addition to the hands on getting muddy stuff we have also tried our hands at some observational drawing, looking at how plants are represented in art We used magnifying glasses to get up really close to a selection of plants we had collected from outside, year 2 have some promising artists in the making. On looking at a work of art by "Georgia O' Keeffe , Milly Hopkin was heard to describe the image as a "Rainbow that has been let free."
Year 2's talent with I.C.T has not been neglected with our look at all things natural, and they have created power points and photo stories with great enthusiasm. We are even hoping in the future to do a pod cast!
With lots of scientific discovery to be covered in the next couple of weeks, we think we are going to have a fantastic time!
Reminder - Mini Marathon
After the success of the last Mini Marathon, this years will take place on Friday 20th June starting at 1.45pm.
We are llooking forward to seeing you all here again this year. Refreshments will be on sale for 50p.
Thanks again for your continued support.
News Zone
Archive