The News Zone
All the latest from around the school...
In this section we bring you a round-up of all the latest goings-on in and around Gilwern. Click on any image to see it full-size.
May 2014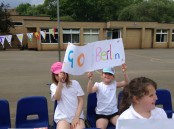 European Sports Day
The Summer Term has got off to a flying start and the sporting events are underway. To begin the season of athletic events this week the children have taken part in European Sports Day. This was an activity that initiated through our involvement in our Comenius project 'Mighty Me'. The focus of the project is to raise awareness of healthy living and the European Sports Day provided an opportunity for a collaborative sports event promoting the importance of exercise. Each class were split into capital cities representing Wales, Northern Ireland, Germany and Spain. Every other country will also hold a European Sports day, with representatives for each country. Once all sports days are completed each school will have a winner and then the points will be collated for each country providing an overall European Sports Champion.
"It's great thinking that we are earning points with children on a team in another country, I can't wait to see how many points they get!" said Maddy, Year 2.
"We had a really fun afternoon I loved being in team Madrid." Tomos, Year 2.
"It was a fun afternoon. We got fit and learned to work as a team" said Dylan Year 6.
"It was great to experience something the school hasn't done before, especially as we are leaving soon" said Emma Year 6
Comenius Coordinator, Mrs. Edwards said "It was a great afternoon and the children really felt part of a wider community. Knowing that they were working as part of a team within our own school and that they were contributing to a wider team that includes children from our partner schools, highlighted the friendships and connections built through the project. All children are keen to know how their European team mates have got on!"
Mr Aylett said "It was a fantastic afternoon, so satisfying to see all children in the school enjoying taking part in an activity that links us with other parts of Europe. Physical Education is a great vehicle to 'break-down' language barriers and unite children from different countries, cultures and backgrounds, in some common goals."
Mrs. Edwards would like to a say a big well-done to all those who took part. The results are as follows 1st - Belfast (197) 2nd- Berlin (191) 3rd - Madrid (173) 4th - Cardiff (165)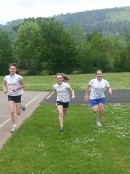 30, 40, 50 Club.
This term has seen the launch of 30, 40, 50 Club in Years 5 and 6, something that has been popular in previous years and is a direct response to a pupil request to the School Council.
30, 40, 50 Club is an organised running club where pupils can learn a range of running-related skills, such as warming up correctly, being part of a relay team and long distance running. They also learn about the importance of hydration and so are always encouraged to drink plenty of water. Pupils can participate at their own pace and are encouraged to increase their own fitness and stamina. They understand that their only competition is themselves!
"I enjoyed it so much last year, that this year I am looking forward to increasing the distance I ran" said Ellie from Year 6
Every Tuesday pupils aim to run/jog/walk a minimum of one mile. Over the course of the Summer Term they record the number of miles they have run on a personal record card and on a class chart. Once the reach a total of 30 miles they receive a Bronze Award. They then receive a Silver Award for reaching 40 miles and a Gold Award for reaching 50.
The majority of Year 5 and 6 pupils are now taking part and Mrs Parry also runs with the pupils to support and encourage them. It has been lovely to see, even in a few weeks, the improvement in fitness of the children who have been enjoying the club.
"I am looking forward to starting 30, 40, 50" said Toby from Year 6
In a recent School Council meeting it was suggested that the club be opened up to younger pupils, both in Lower Key Stage Two and even Key Stage One!
Carys from Year 6 said "It's a very good idea for the infants to be involved in keeping fit and being healthy"
This has been taken into consideration and we hope to have something organised soon.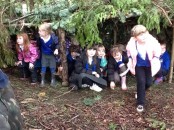 Year One Go Wild!
On Tuesday 6th May 2014, Year one enjoyed a fantastic outing to Usk College where students based at the Campus turned teachers and guides with an aim of inspiring children about life in the countryside.
We were treated to a massive 17 different countryside activities from a tractor ride to a duck race. We visited the College's Agricultural Centre to find out about its working farm, Equestrian Centre, small Animal Centre, woods and pond.
Bevan said "I enjoyed the pond-dipping and finding lots of tadpoles"
During the day we also got to use some of the tools used to make a chair. "Mckenzie said "It was very hard to use the adz to chip out the wood"
We were also accompanied by a photographer from the paper – perhaps you spotted us in the Chronicle?
Year 1 had an amazing experience and the following day wrote about the trip especially the popcorn on the fire. For pictures of our day please go to the gallery.
News Zone
Archive