The News Zone
All the latest from around the school...
In this section we bring you a round-up of all the latest goings-on in and around Gilwern. Click on any image to see it full-size.
March 2014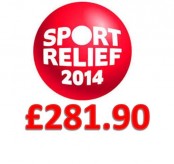 A Jumping Success !
Thank you for your support on Sports Relief, we raised a fantastic amount between the kind donations and the cake sale.
Donations Raised - £158.68 and Cake Sales Raised - £123.22.
Thanks again for your support for this cause.
For photographs see our Gallery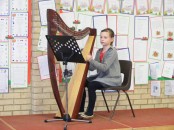 Eisteddfod 2014
All the children in Gilwern have spent the last few weeks completing a range of tasks from across the arts ready to compete in the annual Eisteddfod. Each year the quality of work improves with this year being no exception.
A wide range of entertainment was put on across the day including traditional Welsh Folk Dancing in Year 2 to comical renditions about short giants from Year 5. The traditional Welsh theme was at the forefront for the entire day with all year groups singing Welsh language songs as well as the Key Stage 2 choir performing a modern version of 'Sosban Fach'.
As always, the Key Stage 2 house dances were exciting and energetic performances which had the whole hall clapping along.
"Each house demonstrated great team work to choreograph and perform a technical and entertaining dance. I am so proud of all the hard work the children put in, and they should be proud of themselves" Said Mr Pearson.
Throughout the day points were very close between the houses, however the overall winning house went to Red House.
To conclude the day we carried out the Crowning of the Bard – a tradition that takes place as a result of the very first Eisteddfod in 1176. Lord Rhys of Cardigan held a grand gathering to which were invited poets and musicians from all over the country. A chair at the Lord's table was awarded to the best poet and musician, a tradition that we have introduced to our Eisteddfod. This year the person selected for the Bard is a person who has demonstrated literacy skills across a range of genres, this year the Bard went to Ben Barrell.
A big thank-you to all the children who took part and everyone made a contribution to a fantastic day.

Sport Relief 2014
On Friday 21st March 2014, the school will be taking part in 'Sport Relief'. It is a fantastic opportunity to support a worthy charity. During the day, pupils will engage in a program of activities designed to promote physical fitness, well-being and having fun whilst being active.
To celebrate the strong links the School has with a wide variety of sporting organisations in the area, we would encourage pupils to wear any kits/ uniforms they wear when taking part in sport outside of school e.g. team kits, tracksuits, karate suits, horse riding etc. If your child does not belong to a sporting organisation outside school, please can they wear their P.E kit.
We would ask pupils to bring in a monetary donation for the charity. Gilwern Association of Parents will be selling refreshments during the day and pupils will be able to purchase items for 50p each. All proceeds will be donated to Sports Relief.
Mr Aylett (Sports Co-ordinator)
News Zone
Archive