The News Zone
All the latest from around the school...
In this section we bring you a round-up of all the latest goings-on in and around Gilwern. Click on any image to see it full-size.
February 2014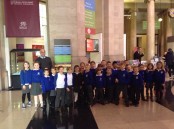 Year 2s Jurassic Journey
Year Two have had a wonderful time learning all about dinosaurs. The class have travelled back in time to explore the wonderful creatures that roamed the earth millions of years before we did. "I love dinosaurs, there are lots of tricky names to learn" said Rhys.
As part of the topic we explored the skills needed to be a palaeontologist. We looked closely at the life of Mary Anning and set up our very own curiosity shop. "I would like to be a palaeontologist when I grow up, you need a very gentle hand!!"
said Amy.
To conclude the project they took a trip to Cardiff museum to take a look at some real dinosaur bones and fossils. "the dinosaur skeletons were huge!" said Maddy. "I enjoyed the workshop – we got to hold fossilised poo!" said Sam.
– Mrs. Edwards said " We have most certainly found some budding palaeontologists in Year 2, it has been a learning journey full of discovery and fun!" An exciting topic enjoyed by everyone.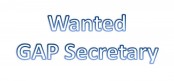 WANTED
Gilwern Association of Parents currently are looking for a new Secretary. This is a 2-year role within the committee.
Key Responsibilities include:
*Deal with correspondence
*Prepare agendas and write up minutes and send to all.
*Call meetings - giving plenty of notice
*Keep a record of attendance at meetings.
*Take notes during meetings
*Co-sign cheques
If you are interested in putting yourself forward, please email me Georgina Park @ georgie@bygeorgebespoke.co.uk , speak to me on the school yard or come along to our next meeting.
Best Wishes Georgina Park (Secretary)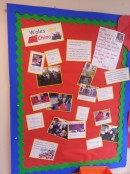 Reception celebrate The Chinese New Year
Over the last two weeks, Reception Class have been finding out all about the Chinese New Year.
2014 is the year of the HORSE and we started by sharing the story of "The Horse That Ran Away", a traditional Chinese story told during the New Year Celebrations.
We found out more about children's lives at home and at school in China and made comparisons with our lives in Wales. Did you know that red is a lucky colour in China?
We watched some very exciting videos of dragon dances and had lots of fun in PE making up our own dragon dance.
Gong Hey Fat Choy! Happy New Year!
News Zone
Archive