The News Zone
All the latest from around the school...
In this section we bring you a round-up of all the latest goings-on in and around Gilwern. Click on any image to see it full-size.
January 2014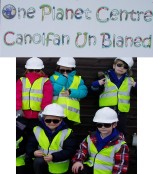 One Planet Centre
As part of our Spring Term topic "Gilwern Goes Green" Year 3 visited the One Planet Centre at Llanfoist, where we found out all about what happens to our rubbish.
"I really enjoyed learning about all the different things you can recycle" said Harry.
We learnt about the things that we can do to help protect our planet. The best part was pedalling the bike to see how much power we could make. We would have to pedal for twenty-four hours to make enough electricity to watch TV for one evening!
"I enjoyed having a go on the bicycle to produce electricity" said Sky
We saw lots of items made from other materials, like a belt made from an old bicycle tyre! We really enjoyed our trip.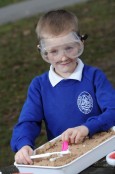 Pupils Dig For Dinosaurs
Year 2 Children turned palaeontologists when they took part in a dinosaur dig.
This term's chosen topic is dinosaurs and the children are getting hands-on experience before writing about dinosaurs.
Using fossils that have been loaned to the school, the pupils set about digging for finds that have been buried in sand in a polytunnel. On discovering a relic, they record the information and relay it back to the classroom using a radio.
Brady Edwards, Year 2 teacher and foundation phase leader, said: "We started learning about dinosaurs at the beginning of this term and have been giving the children hands-on experience before they write about it.
"They are very enthusiastic and are enjoying it. Measuring their finds helps to build on their numeracy skills before carrying out the research and writing a diary about it,"
They have also created a 3D virtual dinosaur on a computer and are looking at writing newspaper articles after reading about dinosaur footprints discovered in India.
Keep an eye out in our gallery for photographic updates.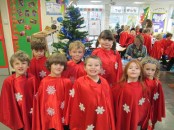 Christmas Productions 2013
The pupils of Gilwern Primary School have, once again showcased their talents and sprinkled a little festive cheer throughout the community with their Christmas productions performed to family and friends alike.
The week of musical celebration commenced with Years 3 and 4 presenting the story of "Ned's Christmas Adventure" where the true meaning of Christmas was discovered by an inquisitive donkey who met with cooks in busy kitchens, toys in toy shops and of course, Father Christmas until his search eventually leads him to a church where he discovered the true reason for celebrating Christmas. The production was funny and poignant in its delivery of the message of Christmas.
The festivities continued with Years 5 and 6 entertaining concert goers with an array of toe tapping Christmas tunes and powerful poetry leaving the audience tingling with seasonal excitement. The children demonstrated a mature attitude in their delivery of the selection of well-known music. Their enjoyment of the songs from Christmas past was evident in their performance.
Finally, the week came to a magical end with the school's Foundation Phase children performing their concert entitled "The Real Christmas Story" which saw the audience guided through the Christmas story by a group of excited children who were told the real Christmas story by the Christmas angel. It was a delightful story, with magical songs and an innocence which captured a young child's perspective of Christmas.
Staff were delighted with all concerts, and were extremely proud of the pupils. They believe their children's talents shone through and that all children showed true commitment to presenting Christmas in three very different ways.
News Zone
Archive