The News Zone
All the latest from around the school...
In this section we bring you a round-up of all the latest goings-on in and around Gilwern. Click on any image to see it full-size.
December 2013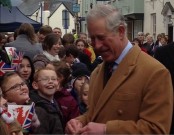 Pupils Pick a Perfect Present for the Palace
I woke up at the crack of dawn with the sound of rain pattering against the window. Typical British weather. It was the morning of Friday 13th December, 2013. Years 3 and 4 were to visit HRH Prince Charles at Neville Street, Abergavenny. Everybody in my class was definitely really excited about visiting His Royal Highness in Abergavenny, well, at least, I know I was. I was so excited, I almost fell off my seat!
From school, we were to be transported by Stockhams buses. We all filed in and then off we went. As the bus was bumping along, I looked out of the window to see the sights of the village of Gilwern, I liked the countryside with all its' meadows and greens.
When we arrived, just outside the Tudor Gate surgery, Mrs Broad told us we were going to have to walk to Neville Street. The first thing I saw when we turned the corner was the band, I could hear them setting up and playing yuletide songs to welcome Prince Charles.
As we neared the Trading Post Café, we heard the hustle and bustle of people ready to see His Royal Highness. We stood in two rows by the café because his Royal Highness would appreciate neatness. Opposite us was the Abergavenny Chronicle office, we had been invited by them to celebrate 125 years of the newspaper running. The kind staff of The Trading Post Café pulled the canopy over our heads so that we didn't have to put up with the typical British weather. They also brought out biscuits for us to eat during the long wait for Prince Charles to finally arrive. But when he did, we didn't stay in our own rows for long, everybody wanted to be in the front row then and a little bit of pushing and shoving was involved. When Prince Charles walked past us he shook hands with Mrs Broad and spoke to lots of children. My classmate Poppy Park gave him a gift for Prince George because we thought it would be a good idea if we gave a "Baby's 1st Christmas" tree decoration for the new baby. He was very grateful and said "I will make sure he gets it"
His Royal Highness was looking quite handsome in his light brown coat. His grey hair was swept to one side. I will always remember what he looked like.
It was a lovely morning, we got biscuits, shelter, music to sing along to, but most of all I liked seeing the Prince. I am very lucky to meet someone form the Royal family.
Report Written by Amy Lawson, Year 4.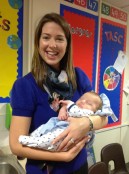 Congratulations
Mrs Marles and baby Henry came and visited all the children.
Henry was born on the 14th November 2013 and is just like his Dad.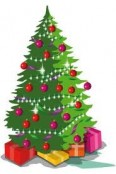 Annual Christmas Fayre
On Friday the 6th December we will be holding our annual Christmas Fayre.
The fayre will see lots of stalls, Santas Grotto and lots of stalls.
We hope to see you all.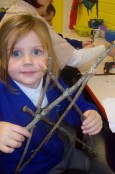 European Christmas Market
If you had visited Gilwern Primary School recently, you could have been forgiven for believing that you had travelled to a small corner of Europe. There was a buzz of excitement and competition as each class took part in a mini-enterprise challenge.
We have been working with The British Council for many years and our international links are now being made stronger by the involvement in a Comenius project connecting us with schools in Northern Ireland, Spain and Germany.
Following a recent visit to Berlin, the school we were inspired by our European connections and the idea for an enterprise week was born. Staff and children decided to hold a European Christmas Market, which involved classes each being given a budget, which they would use to create a stall for the European Christmas Market.
Foundation Phase children explored Christmas traditions of Britain (including Wales and Northern Ireland) with Key Stage 2 researching and exploring the traditions of Germany and Spain. During the week, a range of innovative and creative skills were developed with a focus on financial awareness.
"It was important we made a profit. We worked carefully to think about what items would sell at the market." (Jack Clarke, Year 2 )
"We learned how to run a business, as we had to cost everything we needed to make each item we sold on our market stall. We bought every item and carefully worked out how much more to charge our customers…it was difficult to not like anything about the week." (Amy Lawson, Year 4)
The week was thoroughly enjoyed by all and gave everyone the opportunity to explore a range of skills. Mrs Brady Edwards was delighted with the collaboration and enthusiasm throughout the week, she said:
"We encourage children to recognise their responsibilities towards each other. Children learn from one another, not only within the school but also by connecting with our partner schools. Through projects and enterprises such as our European Christmas Market we are preparing our children for a future in an interdependent world where they can recognise themselves as global citizens. Children are therefore more flexible and have a more positive outlook for the future."
Internationalism inspires children to be enthused and more engaged in their learning. Mr. Guy concluded "The whole week was great fun, there was a real buzz about the school. Children were able to develop skills in Literacy and Numeracy, in a purposeful context!"
The School would like to thank everyone who attended the Christmas Market and supported all the children's efforts', it was greatly appreciated by staff and children alike.
News Zone
Archive