The News Zone
All the latest from around the school...
In this section we bring you a round-up of all the latest goings-on in and around Gilwern. Click on any image to see it full-size.
September 2013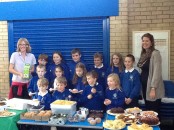 Gilwerns Afternoon Tea Party!
Pupils, staff, parents and governors at Gilwern Primary School held an afternoon tea party in aid of Macmillan Cancer Support. Governors and parents helped decorate the hall and staff and pupils made dozens of delicious cakes ranging from chocolate to carrot cake and doughnuts to decorated biscuits. It was a wonderful occasion which welcomed the community into the school.
Deputy Head teacher, Sue Marles said as well as the school pupils, children from the local nursery, governors, staff, parents and members of the community enjoyed the afternoon tea. "It was a fantastic charity occasion to which everyone contributed something. The school embraces such magnificent events to allow children to gain confidence and develop their entrepreneurial skills as they designed invitations and helped make products to sell for a worthy cause."
Kind appreciation must go to everyone for supporting and contributing to the event as an outstanding sum of £300 was raised for Macmillan Cancer Support.

Reminder 27th September - Coffee Afternoon
We are holding a Coffee Morning in aid of Macmillan Cancer Support on Friday 27th September 2013
It will start at 1.30pm in the school Hall. Please come along, everyone welcome.
If you wish your child to buy a cake please send 50p in with them. If you are able to donate any cakes for this Coffee afternoon we would be extremely grateful.
We look forward to seeing.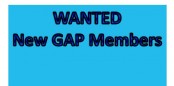 WANTED
To all our new families, welcome to Gilwern Primary School.
On Wednesday 18th September at 6.30pm, Gilwern Association of Parents will be holding their Annual General Meeting in the school. We would like to encourage as many of you as possible to come and join us, to find out a little about our association, and to volunteer to help in any way. All the profits from our fundraising helps to enrich the learning environment for our children within the school.
If you have any questions before the meeting, please come and see me on the yard or email me at the address below.
Georgina Park (Secretary GAP) georgie@bygeorgebespoke.co.uk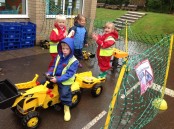 Welcome to Reception Class.
Starting School is a milestone not only for the children but also for parents. This year's Reception Class has 30 children who are keen, eager and ready to learn. "I am so delighted with how well the children have settled in. They are full of enthusiasm and are ready to learn. I am really looking forward to seeing them grow and blossom as a group." said Mrs Edwards the Reception class teacher.
The first two weeks has been about 'finding their feet' within the school and knowing what happens in the school day. Teaching in Reception is very much about exploring and experiencing, learning through play and hands-on activities. The activities are planned to challenge their thirst for knowledge and investigative nature.
"I'm really excited about this forthcoming year. We have a talented and enthusiastic group of children who are all eager to learn. As a school we are also fortunate to have such a committed staff with endless energy and new ideas with regard to making learning fun and challenging. As a staff we talked about our purpose. Our school aim is to NURTURE, EMPOWER, and ACHIEVE."
Gilwern School is looking forward to another successful and exciting year.
News Zone
Archive