The News Zone
All the latest from around the school...
In this section we bring you a round-up of all the latest goings-on in and around Gilwern. Click on any image to see it full-size.
July 2013
Reservoir Safety Message
Dear Parent,
You may be aware that 2 people have recently died after swimming at Reservoirs in South Wales. Whilst reservoirs may seem attractive places to swim during the warm weather, they are in fact full of hidden dangers that can result in tragic circumstances.
With the school holidays upon us and the warm weather set to continue, i am writing to ensure you are aware of these dangers so that you can keep your children safe.
The dangers that can be found include
Cold Water - freezing temperatures in water that can cause hypothermia
Isolated locations - nobody around to help and limited mobile phone reception
Strong currents - even strong swimmers will struggle
Underwater hazards - equipment under the surface operates without warning
We do not of course discourage swimming as an activity as it can be a fun and healthy, but only when done in a safe controlled places such as swimming pools.
If you would like to find out more about the dangers of swimming in reservoirs then please visit our website :dwrcymru- Reservoir Safety
Claire Roberts
Education Manager
Dwr Cymru Welsh Water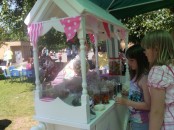 Summer Fete 2013
Gilwern School's annual summer fete was once again a roaring success. It was extremely well supported by the whole community with parents; grandparents and friends of school all turning out in their droves.
There was certainly something for everyone from horse-riding to go-Karting not forgetting the legendary football and netball tournaments to which all children were involved and participated with great enthusiasm.
The fete began with a prestigious opening from Mr Stephan Aylett MBE. His inspirational words allowed visitors to envisage what Gilwern school was all about and gave the local community an insight into the vast array of activities available to the pupils of the children past and present.
This was followed by an ensemble from talented recorder musicians and the hustle and bustle of the wonderful array of stalls and activities open led by children, parents, teachers and even local businesses.
The beautiful weather encouraged crowds to draw from far and wide to enjoy a day of fun and laughter. The fete was then drawn to a close by the gifted dance club performing an eclectic routine which absorbed and captivated the crowds.
A huge thank you must go to the Gilwern association of parents for organising a spectacular fete; their inspirational ideas and hard work planning and preparing the fete certainly made it one to remember. Also, the school staff, children, families and friends for attending and making a wonderful summer fete a community event.
(For more photographs of the day see the Gallery)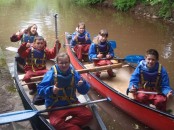 The Great Outdoors!
Year 6 made their annual visit to Tal–Y-Bont Outdoor Pursuits Centre during June. The trip was very popular amongst the pupils, who all had a fantastic time!
The visit lasted four days and three nights, with pupils taking part in six different outdoor activities during their time at the centre. The party left school on Monday morning and made the short bus journey to the picturesque village of Tal-y-Bont, near Brecon. They arrived at the converted railway station that was to be their base for the next three nights, with excitement levels high.
Having been welcomed to the centre by the outdoor education instructors, pupils were given a tour of their new surroundings and settled in to their rooms – making their beds and unpacking their clothes. The first afternoon was then spent taking part in a range of TeamBuilding activities. Pupils worked in 3 groups to overcome challenges set, accumulating points when a task was completed successfully. Team 'Challengers' eventually emerged victorious!
There was an early start on the morning of day 2 (after not very much sleep!), pupils made their own packed lunch for the day ahead and then enjoyed a large breakfast! Activity 1 on day two was canoeing. The group was transported by mini-bus to the nearby canal. There, pupils were made aware of the appropriate safety requirements of canoeing on a canal and then spent over ninety minutes paddling their canoes, taking in the wildlife and developing their stroke technique and canoe control at the same time.
That afternoon, the pupils were taken gorge walking. This entailed walking up stream, through the water, over some quite challenging terrain. The 'prize' at the end of the walk was a beautiful waterfall. Although several children ended up very wet, it was an activity everyone enjoyed.
The morning of day three saw the pupils develop their survival skills, using limited resources to build shelters in the forest. The children had to work closely in small groups to select appropriate building sites and find what natural materials they could to build with. The shelters built were so impressive; the groups were even able to eat their lunch in them. To bring their time in the forest to a close, the centre instructors helped the pupils build a fire, on which they toasted marshmallows – mmmmmm!
After the activities based in the forest, the children went on a mountain walk. They climbed to the top of Tor-y-Foel, this allowed them to have breathtaking, panoramic views of Tal-y-Bont reservoir, the Sugar Loaf and even down into the Usk Valley. The weather conditions during the accent were harsh, with driving rain that would have tested even the hardiest walker. But everyone reached the summit safely and felt it had been worth the effort, with the fabulous views and fast, exciting decent!
The final morning of the visit saw pupils taking part in an orienteering activity on Buckland Hill. The children learned the skills required to navigate themselves around the hill using maps and markers quickly, building on skills they had learned in school. Several pupils demonstrated a real talent for this sport and it may be an activity they could pursue in the future.
Mr. Aylett, the trip leader said,
"It was a great trip, Outdoor and adventurous activities are a vital part of the P.E. curriculum here at Gilwern and it's an area I hope to continue to develop in the school in the future. The children gained much from the experience and I must say their behaviour was exemplary, a credit to their parents and the school."
In all, the trip was a huge success, with the children developing outdoor related skills, but also, as young people. They will look back on their time at Tal-y-Bont with fond memories in the years to come.
(For more photographs see our Gallery Zone.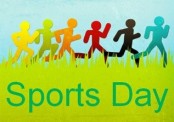 Sports Day 2013
Friday 5th July 2013 starting at 9.30.
Nursery and Infant children will take part before lunch, with Juniors commencing after lunch.
Refreshments will be on sale with all proceeds going to Hopscotch Nursery and Afterschool Club.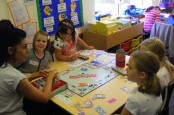 ˜Mammoth Maths Day
On Friday 28th June 20`3 Gilwern School celebrated 'Mammoth Math Day'. Each class participated in a variety of activities with a cross-curricular link to numeracy. It was wonderful to see the children engaged and motivated when solving problems related to real-life concepts.
Pupils were cooking, designing and making maths games, estimating and measuring the school building and decoding mathematical problems to seek treasure. There was certainly a buzz of excitement as you walked around the school.
County Councillor Simon Howarth joined in the fun and was captivated by the children's independent learning strategies and teamwork when solving tricky challenges.
Thanks must go to the parents for encouraging and supporting this event especially as the children came to school decorated in numbers, patterns, shapes and we even had some pupils dress up as a piece of mathematical equipment! Bendigedig bawb!!
The day was a roaring success raising the profile of maths, developing a positive attitude to an important part of the curriculum. Congratulations everyone!
(For more photographs see our Gallery Zone)
News Zone
Archive