The News Zone
All the latest from around the school...
In this section we bring you a round-up of all the latest goings-on in and around Gilwern. Click on any image to see it full-size.
June 2013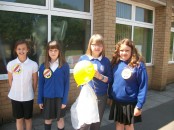 Space Camp 2013
During the first week of June, when the sun was shining, years 5 and 6 took part in 'Space Camp.' This has been an annual event for several years now and is something that pupils look forward to. It is an event designed to engage, challenge and inspire our scientists of the future.
Pupils had the opportunity to develop collaboration skills, as well as mathematical, technological, artistic and scientific skills, through a series of exciting activities. These included designing crew mission patches, making and launching straw rockets, calculating their launch cost and finding things out through videos and Power Point presentations.
The two favourite activities are, as always, the 'Mars Landers' and the air-compressed rockets. The 'Mars Landers' were launched from the school roof by 'Launch Commander Cole' and each crew crossed their fingers in the hope that their two eggy-astronauts weren't scrambled in the fall! The air-compressed rockets were launched to distances of up to 50 metres!
Children have been extremely enthusiastic about this event for years, and hopefully will remain to be for years to come!
For more photogrpahs please look in the Gallery Zone
Quiz Night
Hopscotch Summer Club
Don't Miss out!
Booking forms for Hopscotch Summer Club need to be in by Friday 7th June 2013.
For more information please do not hesitate to contact us.
News Zone
Archive