The News Zone
All the latest from around the school...
In this section we bring you a round-up of all the latest goings-on in and around Gilwern. Click on any image to see it full-size.
May 2013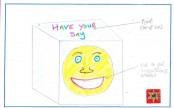 And the winner is . . .
Matthew Jackson from Year 6.
His homework to design a new "Voice Box" has been chosen by our School Council Members.
Mrs Conway would like to thank all children who took part.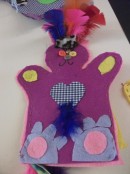 Puppets
During the summer term Year four have been focusing their Design and Technology project on puppetry. They have been researching and learning new techniques to stitch material practising running stitch, cross stitch and back stitch.
Through this process they have explored puppets finding out the different types over the decades and produced several design ideas to create their own final design.
Year four have also been very fortunate to have several volunteers coming in to support their work as without this help the project would not have been possible.
Through creating their puppets the children are able to produce a puppet theatre and compose their own play script to create their own puppet show.
The Year 4 hope to share these puppets shows with the infants to bring to life their storytelling and their new puppet creations. Well done year four you have worked extremely hard on this project.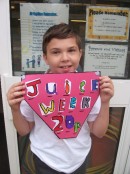 Juice Week (20.05.2013)
The Peer Mediators have decided to promote healthy living and have organised a 'Juice Week' during playtimes this week. Every morning break time children will be given the opportunity to buy juice for 20 pence a cup.
We hope you will support us during this week and that the children enjoy the juice on sale as we are trying to encourage all pupils to bring healthy snacks and drinks to school.
Thank you for your help and support
Library Visit
On Tuesday Year 3 enjoyed a visit to Gilwern Library it is a small, friendly library serving the local community.
The first question we wanted to find out was 'how the books are organised?'
We found out that the Library organises their books by the Dewey System. Non-Fiction books are ordered by their subject category and Fiction books are put on the shelf in alphabetical order by the Author's last name.
While we were there we also explored the computer suite and spent time choosing and reading books in the library.

We can't wait to go back!
For more information about Gilwern Library use the details below
Email: gilwernlibrary@monmouthshire.gov.uk
Telephone: 01873 833055
Visit: http://libraries.monmouthshire.gov.uk/index.php
Community Education Centre and Library, Common Road, Gilwern, NP7 0DS
Summer Term in Year 1
Year 1, after a lovely Easter break, returned to school happy and ready for learning at the start of the Summer term…they have been working very hard.
The class have been introduced to their new topic of "The Seaside" but due to the cooler temperatures we have slotted in a mini topic about books. Mrs Broad said it was a little too cold to start learning about the seaside!
The children read a lovely story called "The Pizza Princess" and did lots of work about instructions and recipes. Children made pizzas, which were really yummy. We also took part in a sharing assembly, where we told the whole school about our activities for Healthy Living Week.
Year 1 have also been doing lots of Number work this week. They have been focusing on collecting information and data from other classes. We have also been doing work on symmetry and making a lovely display for the hall.
It has been a good start to the new Summer Term…we are just waiting for the sunshine to arrive.
News Zone
Archive