The News Zone
All the latest from around the school...
In this section we bring you a round-up of all the latest goings-on in and around Gilwern. Click on any image to see it full-size.
April 2013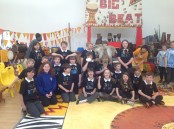 Big Beat 2013
Last week pupils in year 5 took part in a celebration festival for the Big Beat Project at Ysgol Gymraig Bro Helyg in Blaina. The festival took place over 5 days, with 4 schools participating on each day.
The pupils had the opportunity to celebrate African music and rhythm by learning from Ben Badoo (a master drummer from Ghana in West Africa), participating in drum circles and singing uplifting African songs. They also shared tasty fruit kebabs as part of the 'Big Beat Butty Lunch,' an eco-friendly and healthy lunch.
The year 5 pupils have worked hard during this academic year to produce their own Sasa routine (of movement and rhythm), bunting to display at the festival and t-shirts that they designed to represent their theme.
"It was lots of fun and I enjoyed creating our own Big Beat t-shirts" said Emma Dixon
The whole project has been a unique and exciting opportunity for the pupils and they had a fantastic day to celebrate all their efforts.
Good All Round Performance
Following the poor weather conditions of our harsh winter, the Gilwern School Sports Teams were finally back in action this week. We entered teams in both the Tag Rugby and Girls Football competitions, to compete for the Abergavenny Schools Titles. With a proud tradition in both sports, we would be the teams to beat!
The girls started their competition very strongly with a 5-0 win over Llanfoist. Then came what proved to be their greatest test of the day – Cantref. With many girls from both teams playing regularly for the Mardy Tigers, the standard of play was excellent. Even though Gilwern probably had the better of both possession and territory, we were unable to break the deadlock and the match ended 0-0. The final game was against Deri View, with the girls needing to win the game by three clear goals to be crowned Abergavenny Schools Champions. Despite a valiant effort, the final score was 3-1 to Gilwern, which unfortunately meant we were beaten into 'Runner-up' spot by Cantref, who had a superior goal difference.
The Tag Rugby competition started with us being drawn against Llanfoist. As the two main Rugby playing schools in the area, it was clear that the result of this game may decide the final outcome of the tournament. After taking an early lead, Gilwern were then pegged back by a strong Llanfoist team and unfortunately we lost the game 7-5. The team bounced back from this with two good performances against both Deri View, who we beat 8-5 and Cantref who we beat 7-5. The team played well throughout the tournament, and could be pleased with their 'Runner-up' spot.
It was very pleasing to see the two teams do so well in both sports, showing we have sporting talent in a range of activities. Next up, the rescheduled cross country competition at KHS.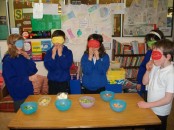 Mighty Me Healthy Eating week
As part of the Comenius project run by the British council, Gilwern School are linked with primary schools in Balymena Northern Ireland, Malaga in Spain and Berlin in Germany.
The project is called Mighty Me and is aimed at promoting healthy living. As part of the project there are many collaborative objectives one of them being to hold a healthy living week and share the finding with the partner countries.
Yet again Gilwern School has risen to the challenge and a fun and all experienced exciting week.
Mrs Edwards, who is coordinating the project said:
"It was wonderful to see the children inspired and engaged in sharing their learning with our partner school. There was an inspiring buzz about the school all week".
Each class had a different challenge. The Foundation Phase took their inspiration from books, Reception read The Very Hungry Caterpillar, Year 1 read The Pizza Princess and Year 2 read the Things You Can Do that are Good for You!'. Each book provided a stimulus for a range of activities from planning healthy lunch boxes, to creating healthy pizza toppings to making a fresh fruit salad.
Year 3 created herb gardens and investigated how herbs are used and how they can be used as a natural medicine. Mrs. Marles and Year 4 created a book of wonderful healthy sandwich recipes, we are aiming to publish these recipes along with recipes from the others schools in the project. Year 5 produced an array of advertisements to publicise healthy lifestyles ranging from a jingle, to a YouTube advert! Finally year 6 collected data on eating habits at Keystage 2, they then analysed the data to create reports.
All had a busy, fun-filled week and it concluded with a celebration with all classes sharing their activities from across the week.
Mrs Edwards would like to say a huge well done to everyone and we are looking forward to hearing from our partner schools and what their healthy week was like.
News Zone
Archive