The News Zone
All the latest from around the school...
In this section we bring you a round-up of all the latest goings-on in and around Gilwern. Click on any image to see it full-size.
November 2018
School Closed
Monday 5th November 2018 school will be closed to all pupils due to staff training.
We look forward to seeing you all on Tuesday 6th November .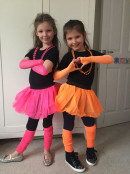 School DISCO
There will be a school disco on Wednesday 7th November with the theme NEON.
Foundation Phase - 4.30pm - 5.45pm.
Key Stage 2 - 6pm - 7.15pm.
£2.00 entry per child which includes a drink and a snack. All proceeds will go to Children in Need - Rickshaw Challenge.
News Zone
Archive