The News Zone
All the latest from around the school...
In this section we bring you a round-up of all the latest goings-on in and around Gilwern. Click on any image to see it full-size.
March 2018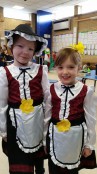 Rescheduled St David's Dress up an World Book Day
St David's Day

St. David's Day celebrations will be taking place on Thursday 8th March, 2018. Pupils are invited to wear representative Welsh dress e.g. traditional Welsh dress/costume, Welsh Rugby kit, Welsh football kit etc. The pupils will be participating in a variety of activities to celebrate the Welsh culture and heritage.
World Book Day

World Book Day celebrations will be taking place on Friday 9th March, 2018. Pupils are invited to dress up as a character from a book and bring their favourite book from home, which they will be able to share with a reading partner on the day. The children will be undertaking activities based on the well-known book "Awful Auntie" by David Walliams in preparation for our school theatre visit in May.
Monday 5th March 2018
School will be open however it may be a disruptive day. Please make your own risk assessment .
SCHOOL CLOSED: Friday 2nd March 2018
SCHOOL CLOSED: Following advice from Mon CC .Due to current weather conditions and safety on site. We aplogise for any inconvenience caused . We will continue to update you.
News Zone
Archive